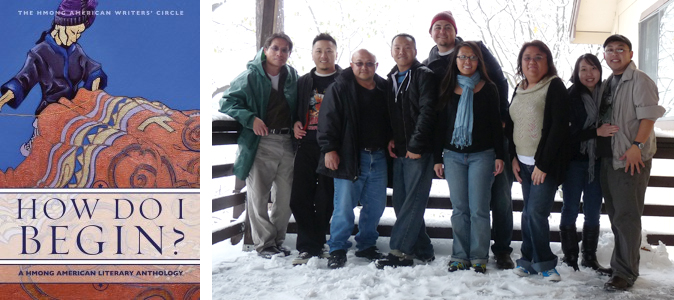 The Hmong American Writers' Circle
Although creative expression within Hmong history and culture is evident in the form of oral stories, oral poetry, textile art and the playing of various bamboo instruments—what we might categorize as heritage art forms—one will quickly discover that, even in this category, there are no novels, plays, or collections of poems, essays or short stories. There is no account of Hmong life preserved in writing by a Hmong hand and passed down through the centuries. Some say they had a written language believed to have been lost from forced assimilation under Imperial China thousands of years ago, that their women disguised the characters of that writing system as clothing embroidery (paj ntaub). But even the meanings of these symbols have become indecipherable.
It is with the adoption of the English language that Hmong Americans are now witnessing the early stages of a literary tradition. Founded in 2004, HAWC (the Hmong American Writers' Circle) has served as a forum to discover and foster creative writing within the Hmong community. HAWC coordinates writing workshops and provides educational/professional support and networking opportunities to emerging writers. Its members have partaken in writing residencies at Hedgebrook and conferences at Kundiman, Napa Valley Writer's Conference, and Tinhouse, and have published their work with Random House, New Rivers Press, Heyday, Swan Scythe Press, and the Minnesota Historical Society Press. Their writings have also appeared in literary journals such as Ploughshares, North American Review, In The Grove, Paj Ntaub Voice, Hyphen Magazine, Alaska Quarterly Review, Massachusetts Review, among many others. How Do I Begin? A Hmong American Literary Anthology—a body of short stories, essays and poems edited by HAWC and published this year by Heyday—is described by poet Juan Felipe Herrera as "one of the finest collections of creative writing in decades."
HAWC's efforts and achievements have been geared toward the creation of a visible body of Hmong American literature and the establishment of a Hmong literary culture. "The Hmong American Writers' Circle now helps usher this unrecognized community into American letters and gives voice to the dispossessed," says Ken Chen, executive director of The Asian American Writers' workshop. To find more information about HAWC, visit hmongwriters.org.